Central Mongolia (13-16 days)
Wonders of Mongolia
---
Central Mongolia witnessed many event in the Mongol Empire
Central Mongolia, commonly known as the Horse Breeders' Paradise for its serene beauty, is a land of flourishing green meadows, rolling hills and crystal blue lakes and rivers lying at the northern foot of the Khangai Mountain Range. This is where many nomadic families are herding their livestock, and a great place to experience the Mongolian Horse Culture at first hand.
Indeed, it hosted the capital of the Mongol empire, Kharakorum, during the reign of Gengis Khan and preserves many archeological remains.
The Orkhon Valley is famous for its hot springs. You will approach Mongolia's highest mountain range: Khangay mountains to reach the beautiful Terkhin Lake with its blue water.
At the monastery of Amarbayasgalant (monastery of the quiet felicity) you can attend religious festivals depending on the season.
Best months for Central Mongolia: May-end of September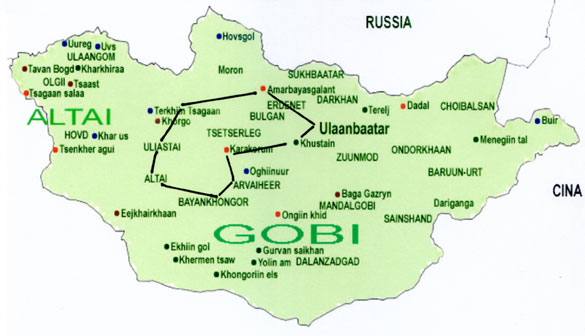 ---